This article was originally posted in Traverse Bay Record Eagle on June 13, 2015
TRAVERSE CITY — Call it the scrap business. Or call it metal recycling.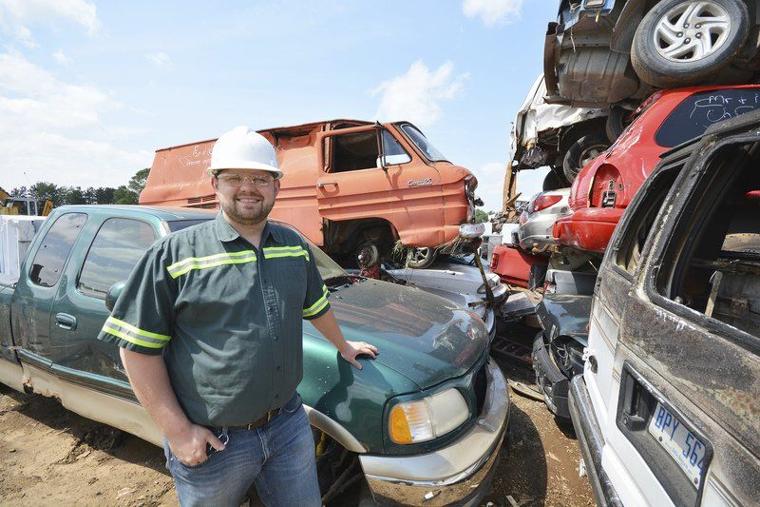 "We're processors, is what we are," said David Rifkin, owner of Rifkin Scrap Iron & Metal Co.
Rifkin doesn't care what name you attach to his trade. He just enjoys the game of squeezing a profit out of the ever-changing metals market.
"It's fun," he said. "There's so much to do. Keeping track of the market. Balancing the overhead. Every day has a challenge."

Nathan Hoard, retail yard manager at Padnos Traverse Bay Recycling, 3770 Blair Town Hall Rd., agrees.

"You never know what you're going to see from day to day," Hoard said.

His crew once came across a hollow aluminum ball 10 feet in diameter. He has also seen brass burial urns (they were empty) show up at the business.
Hoard, who grew up in Traverse City, has been with Padnos three years. Padnos has been in the business of recycling more than 100 years. It purchased its Traverse City facility 16 years ago.
The Rifkin company has done business in Saginaw for 75 years. It opened a site in Traverse City, at 2674 Cass Rd., about eight years ago.
A third local player in the metal recycling business, Grandpa's Garage Recycling, does business at 3854 Blair Town Hall Rd.
Hoard and Rifkin both said about half their incoming supply of metal comes from the general public. The other half flows from local industrial sources. They bring in machine shop trimmings and other waste material. The price the businesses pay — per pound or per ton — depends on the type of metal and the daily market price.
"When you tell people you have a facility in Traverse City, they don't believe it," Rifkin said from his Saginaw office. "All they think about is going up there for vacation."
Northern Michigan poses weather-related challenges because much of the daily toil at scrap metal firms is outdoors.
"With that polar vortex, the past two years have been brutal," said Rifkin. "You can deal with snow. But the cold is hard on staff, hard on equipment."
Hoard said the Padnos yard is definitely busier in the warm summer months when the public is more comfortable doing outdoor chores.
Rifkin Facilities Manager Doug Adams this year reorganized the Traverse City facility to improve traffic flow. The operation is primarily a transfer facility. It collects and sorts materials, then ships them to Rifkin's processing facility in Saginaw.
"We're going to take it and move it," he said.
Crews at scrap metal facilities need to weigh whatever metal the public brings to their door. Small amounts of metals can be weighed indoors. But steel and iron — because of their weight and bulk — typically need to be weighed outdoors. The usual routine is for the seller to drive onto an enormous scale set in the ground. The truck — or car and trailer — is weighed both before and after the scrap is unloaded on the lot. The difference determines the payout.
"Recycling has been an ever-growing market," Hoard said.
Copper for years has been the price queen of the recycled metals market. Carbide sometimes sells for more, but only industrial sources bring in much of that.

"Copper is in everything these days," said Rifkin. "Look at cars. There are electronics everywhere."
But steel accounts for the bulk of the metal streaming through metal recyclers' yards. Steel always is in demand. It can be melted down and reused in bridges, ships, cars and buildings.

The price scrap dealers can pay for metal depends on demand.

"The scrap business is totally its own free economy," Rifkin said. "Our markets change according to the price of commodities. We're definitely busier when prices are higher."
Rifkin has noticed that steel prices go up as oil exploration activity accelerates, as it did a few years ago in the Dakotas. Exploration companies need raw materials to build derricks and lay pipe. When exploration activity goes down, the price for recycled steel follows suit.
Rifkin's main facility in Saginaw employs nearly 40 workers. The company typically carries seven to 10 people on its Traverse City payroll, another six to eight at its West Branch facility. Padnos has eight employees in Traverse City.
"This is truly recycling at its ground level and at its best," said Adams.
This article was originally posted in Traverse Bay Record-Eagle on June 13, 2015